Now as most offices have reopened after the pandemic, it is important to protect their employees from the coronavirus. Every company must ensure that they take the necessary steps to prevent the spread of coronavirus in the workplace.
Image Credit: https://www.pexels.com/photo/woman-in-blue-suit-jacket-2422293/
While maintaining your workplace clean is important, it is important to take care of other things as well to prevent the spread of coronavirus. If you want your staff to get tested and bring them back to work safely, you could take the help from Healthclic COVID business services. Many companies and even families use their services to stay healthy. As their services are affordable, you can happily try their services.
Look below to know about workplace cleaning and sanitation.
If you have a biometric system in place at your company, it is important to sanitize it after each use. As it is difficult to sanitize after every use, it is important to look for an alternative to a biometric system.
Remember, biometric sensors can become a spot for the spread of bacteria and dangerous viruses. Try to take manual attendance or use other applications, which help in preventing the spread of coronavirus.
Common areas like washrooms, kitchen, conference rooms, and canteen must be cleaned properly after every shift. It is important to clean these areas at least 4 to 5 times a day to protect your employees from viruses and bacteria. Arrange soaps and sanitizers everywhere to help your employees stay protected from bacteria and viruses.
It is important to clean the chairs, tables etc. after every shift. This helps by preventing the spread of coronavirus.
Make sure that you educate all your employees about the importance of following social distancing. Conduct weekly meetings and educate them about the various measures, which they must take.
Try to provide work from home to as many employees as possible. The remaining employees must be placed in various shifts and seating arrangements must be done properly. Remember, your employees must not sit close to each other.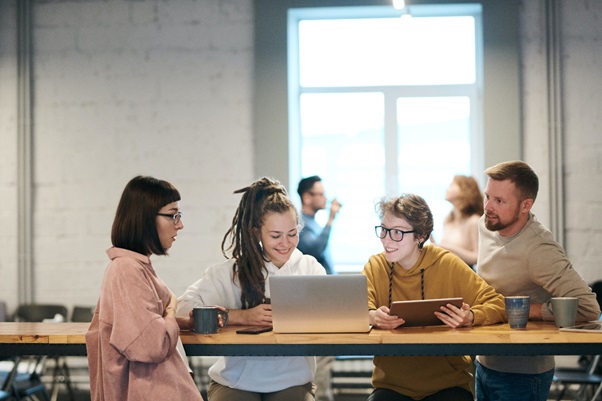 Image Credit: https://www.pexels.com/photo/photo-of-people-leaning-on-wooden-table-3182768/
Stick posters related to covid-19 with advice and safety precautions where ever possible in your office. You must mention even the smallest things in the posture. For example, you can mention some pieces of advice on how to wash hands properly on the postures.
Avoid using the conference room as much as possible. Make use of the technology to prevent the spread of coronavirus. It is better to use video conferencing instead of conference rooms.
Make sure that no employee gets in contact with the other employee at the office.
Tell your employees to stay away from the busy areas at your office.
Educate your employees to avoid sharing their things with others. Most people have a habit of sharing their lunch boxes at office, and if this happens, it can lead to the spread of coronavirus, from the infected candidate to others.
Ensure that you check the body temperature of every employee before allowing them into the office. If you observe high body temperature, send that employee back home. Let such people get the test done and take a confirmation.
It is highly recommended to hire COVID business services to do these jobs systematically.